Many expatriates are fortunate to have company funded medical insurance as part of their remuneration package.  However, as international health insurance plans have become gradually more and more expensive an increasing number of expatriates have found themselves on local employee benefits plans instead.  Happily for most people this will be fine, but serious accidents and illness are a fact of life and, sadly, every year many expatriates experience health problems that cause severe financial difficulty.
One of the reasons for this is that many employers in Thailand buy into health plans for their employees that have benefits designed to be used, at the expense of a plan that would provide real protection for the employee.
To illustrate this point, the following table of benefits is a summary of a plan an international company provides it staff in Thailand.
The company has a small office with 20 or so employees and dependents, comprising both local nationals and expatriates.  The medical benefit for each employee and their dependents is the same and the premium is nearly Baht 19,000 per head:
Items 1 to 5 of the schedule form the in-patient benefits which are the basis of nearly all local employee benefits plans.  It is worth noting that most international health insurance policies will have no sub-limits for these categories and therefore would cover these benefits in full.
The outpatient benefit is optional; this covers a consultation with a doctor and prescription charges for up to 31 visits per year.  The dental benefit is also optional, and it is not uncommon for this to be a lump-sum benefit to cover a 6 monthly check up, some cleaning and perhaps the odd filling.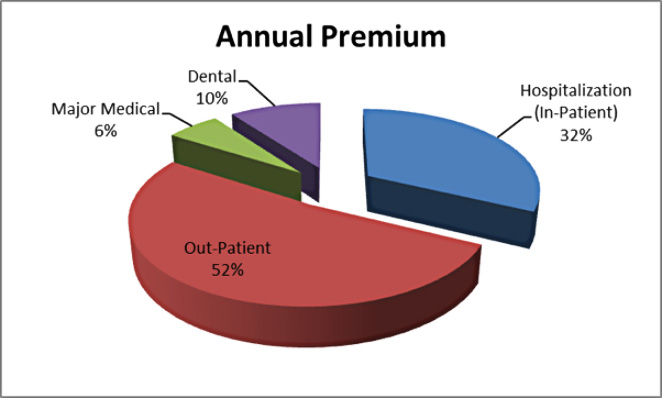 For most expatriates a visit to the doctor or the dentist for routine treatment is reasonably affordable.  However, the premiums for these benefits account for over 60% of the total premium.  This means that less than 40% of the employer's spend on health is available to fund benefits for serious illness or accident.
Hospital admission – the real costs
Room and Board
Starting at the top, the benefit of Baht 4,000 will not fully cover the costs of an overnight stay at most of the well-known Bangkok hospitals popular with expatriates.  For example:
One night at Bumrungrad in a standard single room, including nursing, meals and services charges will set you back over Baht 9,000.  Although you could opt to share a 4-bedded room at the same hospital for around Baht 4,600, you would still have a bit of a shortfall.
At Samitivej an overnight stay in a private standard room starts at around Baht 4,000.  However, once nursing, food and other service charges are added the bill is likely to exceed Baht 6,500.
There are of course less expensive hospitals in Bangkok.  For example, an economy room at either Sukhumvit or Phayathai 2 Hospitals will cost around Baht 2,700 and this includes nursing, meals and service charges.  So, it's not all doom and gloom, but this level of benefit certainly won't be enough if your preferred choice is one of the hospitals popular with many expatriates.
Surgical Fees
There are 2 variations of Surgical Fees benefit, referred to as "Schedule" and "Non-Schedule".  The non-schedule benefit pays up to the amount quoted in the schedule.  However, you need to be aware that if the benefit is reimbursed in accordance with the Surgical Schedule the reimbursed amount is a percentage of the benefit stated in the benefits table.  The rate of reimbursement is accordance with the complexity of the operation, so for a simple operation the percentage reimbursed could be as little as 5% or 10%.
The benefits may look the same but unless you understand the distinction you may end up footing more of the bill than you actually expected.
Hospital General expenses
Hospital General Expenses are a catch-all for a multitude of miscellaneous expenses.  This is often the most costly part of any hospital stay and can eat into the limits of the coverage very quickly.
These include the costs for diagnostic tests, special consultant fees, medication, bandages and dressings, emergency outpatient care, and ambulance amongst other things.  So, even though Follow-up Out-patient Treatment may be quoted separately on the benefit schedule, it is very often part of Hospital General Expenses.
Don't be surprised, therefore, if the out-patient follow up treatment you were expecting to receive following discharge was already used up elsewhere before you even left the hospital.
Major Medical
Major Medical benefit (if it is included) is supposed to come to the rescue when the basic benefits like surgical fees and hospital general expenses have been used up.  It doesn't usually cover all of the excess; it normally pays 80% or 90% of any additional expenses, which means that the patient is responsible for paying the remaining 10% or 20% of the bill.
The reality is, however, that another Baht 200,000 on top of what is already a weak plan is woefully inadequate.  Remember the annual coverage on entry level international plans start at around Baht 15 million.
Yes, there is a better approach but
You may be able to persuade your employer to allow you to opt out and use the budget more sensibly, but that may not work.  So, unless you have direct influence over the employee benefits at your place of work, you are probably going to be stuck with the plan you've got.  Nevertheless, there are things you can do to protect yourself properly against disaster without it costing "an arm and a leg".
Effective Protection at a Reasonable Price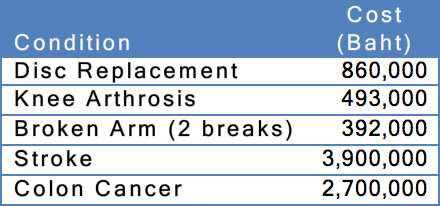 Firstly, insure for what you "cannot afford".  By this we mean those medical conditions which can occur, and when they do, can be very expensive.  This brief table provides an illustration of the costs for treatment of medical conditions which are quite common.
Secondly, find a reputable insurer that has a good in-patient only plan and gives a respectable discount if you take a reasonable excess or deductible.  The idea here being that your personal plan would kick-in when the corporate cover runs out.
Thirdly, select a suitable plan, one for example that provides several million Baht in cover per condition, and offers discounts if you choose to exclude out-patient treatment and take an underlying deductible – remember, you already have a degree of coverage in place via the corporate plan.
The decision to remove the out-patient benefit might raise some legitimate concerns, namely: the provision of follow up treatment after hospital discharge; and the fact that cancer treatment is often administered on an out-patient basis. With certain insurers, however, both are covered by the inpatient part of the plan. In the case of out-patient follow up treatment, it is covered for 90 days following hospital discharge.
Even if you don't have a corporate plan to take up the slack at the bottom, take less of a deductible.  Whatever you do, do not settle for a plan offering lower coverage.  If the worst happens, it will be far easier to pay the deductible than the excess hospital bill as a result of being under-insured.
At Trafalgar International Employee Benefits we are always ready to help individuals and corporate clients select health insurance plans to suit their needs and budget.